Colorado Whitewater Rafting & Zipline Tours
May 28th, 2012
Highlighted Value Package
Folks love our Zipline Adventure Packages that allow you to choose from a Colorado whitewater raft trip, fishing expedition or ducky trip in the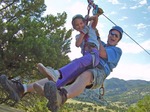 morning and, after a delicious fajita lunch, a zipline tour in the afternoon.  Imagine spending a beautiful, mountain morning paddling your way down the rapids of the Arkansas River. Now combine that with an afternoon of soaring over rugged canyons in the majestic Rocky Mountains on a thrilling zipline tour and you've got one perfect day of adventure in Colorado!
NEW this year for Ziplining is a set of parallel cables so you can jump into adventure off a 200 foot cliff on a pair of 700 foot racing cables!  Now you can race your friends or family across the canyons!
 
The Zipline Adventure Packages include a half day Colorado whitewater raft trip (intermediate or advanced), a 2.5 hour Zipline Tour, a FREE photo CD of your raft trip, a wetsuit package and a yummy Ultimate Fajita Buffet lunch!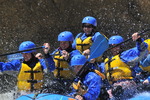 You don't want to miss out on this incredible day of fun! Check out your package options on our Activity Package page or call us at 800-497-7238 to reserve your Zipline Adventure Package today!